Chef John Williams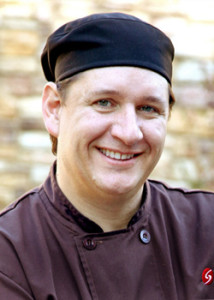 Since he was eight years old, John Williams has had a clear path in the culinary industry. It was at this age that he picked up the Betty Crocker Cookbook and cooked his first meal for his family: Wild Duck Breast à l'Orange (although his mother didn't oblige him entirely; she bought him chicken, not duck).
For the past 28 years, John has worked in the culinary and hospitality industries, both front- and back-of-house, and became a certified executive chef in 2003. John has consulted and worked for companies including Romano's Macaroni Grill, where from 1993-1998, he developed menus and recipes and trained staff at the corporate level. From there, John went to Darden Restaurants, the umbrella company for recognizable restaurant names such as Red Lobster, Olive Garden, LongHorn Steakhouse and Bahama Breeze. In 2002, he continued on to BRAVO! Cucina Italiana. His background also includes Johnny's Italian Steakhouse and Great Wolf Industries. All in all, John has had a hand in opening 44 restaurants, hotels and resorts. In 2010, John arrived at Sundara Inn and Spa. As the Executive Chef and Beverage Director, he creates flavorful, proportioned, balanced, seasonal and locally sourced menus.
At Sundara, John uses The Perfect Purée of Napa Valley's purees in his vinaigrettes, smoothies, flavored waters, cocktails and juices. He enjoys the products because they hold their flavor, texture and color. With so many flavor choices, he says the combinations are endless. Because the purees and concentrates are so consistent and dependable, he's creating his cocktail program around the products. John enhances water with fruit flavors including the Pomegranate Concentrate and makes a Blood Orange Limeade as well. His juice and smoothie menus are comprised of Perfect Purée flavors.
Recipes
Blood Orange Balsamic Vinaigrette