Israel Nocelo, Mixologist, Positano Coast, New York
Isra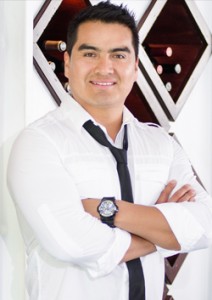 Israel Nocelo was born and raised in Puebla, Mexico, but left for New York City when he was just 16 years old. He quickly got a job as a bar back and worked his way up to bartender.
He continued to work behind various bars in New York, including Cafe Frida and SUSHISAMBA. Israel then met Enrique Olivera, the chef from the famed Pujol restaurant in Mexico City, consistently ranked on San Pellegrino's list of World's 50 Best Restaurants for its innovative techniques and dishes. Enrique exposed Israel to imaginative and experimental approaches to cuisine authentic to his native Mexico.
Israel takes this culinary approach to his cocktails utilizing ingredients like dehydrated grasshoppers, dried chiles and flowers. He has competed in several national and international cocktail competitions, and was also awarded the Consejo Regulador del Tequila (CRT), A. C in New York by David Suro. In 2008, Israel moved to Philadelphia to work with Junior Merino, the mixologist and educator known as the Liquid Chef, where Israel honed his mixology skills and techniques.
In 2008, he joined Positano Coast and created the city's first all-Italian cocktail list. He helped transform the restaurant into a notable place to go for cocktails. Still, Israel likes to create Latin-inspired cocktails, using agave-based spirits like tequila and mezcal and fresh ingredients. For the past decade, Israel has been using The Perfect Purée line of products. He says the purees are efficient, easier and often taste better than fresh fruit because of its consistency. Because Israel aims to always create unique cocktails with authentic flavors, he has explored the entire line of products and always enjoys experimenting with new flavors. Often times, he will blend together two or three different Perfect Purée flavors, crafting a culinary creation in a cocktail.
Israel's cocktails often reflect his Mexican heritage and his appreciation for the culture and distinct flavors. His Xochimilco cocktail utilizes mezcal blanco, The Perfect Purée Mango Puree, yuzu juice and lemon grass syrup. He often enhances simple syrups with herbs, spices and even flowers, like his hibiscus syrup in the Amanecer.
He continues to evolve his cocktail menu, always adding new seasonal drinks or uses new techniques and methods.