Mariena Mercer, General Manager of Chandelier Bar and the property mixologist for The Cosmopolitan of Las Vegas Resort, Nevada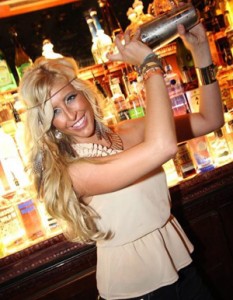 Mariena Mercer has a true passion for mixology that comes from a deep appreciation and understanding of spirits and the people who make them. She initially fell in love with tequila, and on her 21st birthday, she became Treasure Island's first Tequila Goddess, a role created specifically for her at the iconic Las Vegas resort. This gave her the opportunity to live, work and learn at the tequila distilleries in Jalisco, Mexico. Mariena was born and raised in Las Vegas, as were her parents, a rarity in this transient city. She studied chemistry in college and now uses this knowledge to craft complex cocktails, manipulating the molecular and chemical properties of the ingredients. Since 2000, Mercer has crafted her own whimsical style for layering cocktails with gastronomic and scientific techniques.
Mariena has worked as a bartender at several Las Vegas establishments including opening Mi Casa Grill Cantina at the Silverton in 2006 and, in 2007, she became the mixologist at Dos Caminos. She continued to hone her craft and consulted for high-end properties throughout Las Vegas. She joined the team at The Cosmopolitan of Las Vegas in 2010 and today is the general manager of Chandelier Bar and the property mixologist for the resort. She has taken home top prizes at numerous mixology competitions including the Whiskey for Women competition (also landing her a spot on the cover of the book with the same name).
Mariena takes a culinary approach to her cocktails, experimenting with fresh ingredients from the farmers market and consulting cookbooks for inspiration. The Cosmopolitan has a dedicated production kitchen just for beverage, so Mariena spends time here perfecting cocktails and testing and mixing ingredients, from classic flavors to complex recipes that use liquid nitrogen.
Mariena's top priority is using the highest quality ingredients, whether that means creating them in-house or sourcing them from the finest producers. In the case of the purees, Mariena knew The Perfect Purée of Napa Valley made better tasting, better quality purees than could be made in-house. She says the purees have tons of flavor and never any preservatives. Using The Perfect Purée Strawberry Puree, she says is like biting into a fresh strawberry. The Perfect Purée Yuzu Luxe Sour blend elevates and heightens Mariena's cocktails, helping bring out the distinct flavors of each ingredient. One of her favorite purees is The Perfect Purée Ginger Puree, naturally sweet, perfectly juxtaposed with its spicy hotness.
Currently, Mariena is inspired by Thai flavors and spices, and one of the most popular drinks on the menu is the Fit to be Thai'ed, based on the traditional soup Tom Kha. It's made with The Perfect Purée Ginger Puree, Thai chili syrup, peanut better and coconut cream. She shares that recipe along with her Baked Alaska cocktail, made with The Perfect Purée Carmelized Pineapple Concentrate, gin, pineapple infused dry vermouth, Yellow Chartreuse and sage.
Mariena loves inspiring her customers and introducing them to new cocktails and unique combinations and flavors they would not otherwise be exposed to in drink form.