Somer Perez, President, Couture Cocktail Concepts, New York City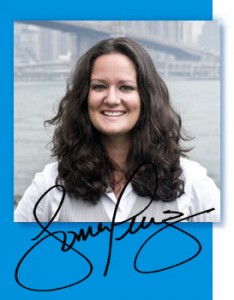 Somer Perez is in the couture business. Couture cocktails, that is.  With 10+ years in the beverage business, Somer is President of Couture Cocktail Concepts in New York City.  Her clients include restaurants, bars and brands.  Working closely with them, Somer utilizes her past experience as a Beverage Director to expand her customers' lists and identities in the mixology market, creating custom beverage programs that extend beyond the cocktail list.  What sets her apart in a crowded consulting market is her attention to staff training, quality control and sales analysis.
Somer honed her skills in her "classic meets contemporary" method first as a barback and bartender at Beacon in the late 1990s, working with Audrey Saunders and Dale Degroff, as well as local chefs.  During this time, she gained first-hand experience combining traditional culinary ingredients with up and coming spirits.
She became one of the youngest Beverage Directors in New York City, first at The Hotel on Rivington and then at the reinvention of the Royalton Hotel with Morgans Hotel Group.  It was there that Somer turned around a Midtown spot, developing a mature, seasonal, product-driven cocktail list. While at The Royalton, her efforts were recognized as she was named a 2008 Rising Star Mixologist by StarChefs.com, an accolade that catapulted Somer onto the national mixology scene.
Somer's cocktail philosophy is to take the ingredients and techniques of the country's best cocktail enclaves and apply them to big, busy settings all over the country. Her cocktails combine classic methods with seasonal, gastronomic ingredients and boutique spirits, teaching drinkers that there's more to the world of cocktails than settling for the average. Her respect for the classics is evidenced in all she does.