Francesca Zani / Owner, The Garnished Palate, New York

Food and lifestyle blogger Francesca Zani was approached by the New York chapter of Les Dames d'Escoffier to partner with female owned food and beverage brands to create her perfect cocktail. Having graduated from The Culinary Institute of America (CIA) and beginning her career in food media, she has seen the use of The Perfect Purée of Napa Valley used extensively.
"I was so thrilled to partner with The Perfect Purée to create The Speckled Lychee using their Lychee Puree. I thought that flavor was slightly unusual, which would make the cocktail a little more whimsical."
She then created the Pear and Ricotta Crostini using The Perfect Purée Pear Puree. "The pear was sweet, the cheese creamy, and all the other ingredients kind of melted in your mouth with a crunch from the crostini."
After graduating from the CIA in 2018 with a Bachelors in Food Studies, Francesca always envisioned herself in some aspect of food media. She's a Culinary Associate Producer for PowerHouse Productions, freelance writer, blogger, and recipe developer. Brand collaborations or sponsorships are incredibly important while growing as an entrepreneur and that's why she continues to do so with The Perfect Purée of Napa Valley.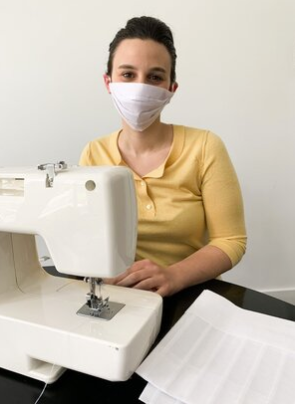 At PowerHouse Productions she was on the team that produced Just Eats with Chef JJ (James Beard awarded Chef JJ Johnson), New Soul Kitchen (2020 Taste Award winner) with Chef Jernard Wells, Living By Design with Jake and Jazz Smollett, and Lens of Culture with Elton Anderson and Tai Beachamp. Her work has many moving parts which she loves. She gets to test and develop recipes and show ideas, lead a culinary team on the set of a production, food style for television, scout locations globally for the travel series, run the PowerHouse social media account, and much more. Outside of producing she continues to grow her brand The Garnished Palate.
Francesca wanted to contribute in helping the food industry during the COVID-19 pandemic. In her spare time she has been prototyping a toque-inspired face mask for food industry employees. She plans to have the toque-inspired face masks manufactured to further protect those on the front lines. Chef toques or kitchen hats are symbolic in the industry and have been part of the traditional chef uniform for centuries.
---