Toni Chiappetta, Owner, Sweetie Pies Bakery, Napa, CA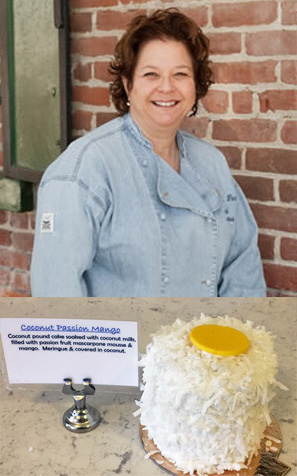 As a little girl, the only reason Toni Chiappetta ate dinner was to get to dessert. Today, as the owner of local darling Sweetie Pies, she's come a long way from her early chocolate cake experiments and Table Talk pies at her parents' luncheonette.
Toni is a longtime fan of The Perfect Purée, faithfully using the products for baking since she launched her business in 1994. Sweetie Pies goes tropical in the summer with a dense coconut pound cake soaked in coconut milk, filled with The Perfect Purée Passion Fruit Concentrate mascarpone mousse and mango, frosted in meringue and covered in coconut. Other flavors in regular rotation include The Perfect Purée Strawberry Puree, Blackberry Puree and Red Raspberry Puree, which Toni says she uses mainly in cake flavorings.
Toni and her team of expert artisan bakers maintain an extensive menu including coffee cakes with creamy fruit fillings, buttery croissants, dense quickbreads, breathtaking special occasion cakes and endless cookies — Double Peanut Butter, Russian, Pumpkin Drops, Shortbread and Sweetie Pies' ever-popular filled cookies.
Then there are the widely acclaimed pies — baked seasonally, shipped fresh and named among the best pies in the nation by Bon Appétit and Food & Wine. Sweetie Pies was also named one of 10 Best Breakfast Spots in Napa Valley by USA Today and featured on Road Tasted, a Food Network show with Jamie and Bobby Deen.