Christina Maffei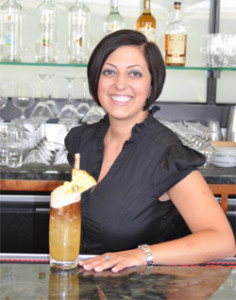 Christina Maffei, Brand Ambassador for The Perfect Puree of Napa Valley, is an award winning mixologist that has created the concept of 'Liquid Artistry' as her philosophy of cocktail making. Liquid Artistry combines the ideas of a bar chef and the ingredients of a liquid kitchen to create a tantalizing sensation. To take it a step further, she adds market fresh ingredients, homemade components such as infusions, herbal and spice flavored syrups, and fresh squeezed juices and purees to create her signature "Liquid Artistry."
Originally from Pittsburgh, Pennsylvania, Maffei moved to Chicago after graduating from Mercyhurst College with a BA in Hotel, Restaurant, & Institutional Management. She began her food and beverage career with Hyatt Regency O'Hare as an MIT. A year later, Maffei had the rare opportunity to work with renowned Chef Charlie Trotter at his namesake restaurant as a Food Service Professional. Her past accomplishments also include positions at Four Seasons Hotel Chicago and Fairmont Hotel Chicago. For five years, Maffei had been part of the Trump Hotel Collection. She was an integral part of the opening teams for Trump International Hotel & Tower Chicago, Trump International Hotel Waikiki Beach, Trump Ocean Club International Hotel & Tower in Panama City, Panama, and the transition of Doral Golf Resort & Spa in Miami, FL from a Marriott property to a Trump National Doral Miami. In 2012, Maffei decided to move back to the island of Oahu to take the position of Director of Food and Beverage Outlets for the over 3,600 room property of Hilton Hawaiian Village in Waikiki, Hawaii where she oversaw the operations and full renovation of the bars & restaurants until July 2013. Maffei currently is the Director of Food and Beverage Operations for the Hale Koa Hotel in Waikiki.
Her concept of 'Liquid Artistry' – what once started as a cocktail philosophy- has now blossomed into a Restaurant/Bar & Beverage Consulting company for Maffei.
Maffei is a member of the US Bartenders Guild, Honolulu Chapter. She was dubbed one of the Top 10 Mixologists to Watch in 2013 by Beverage Media and awarded the title of creating 'The World's Best Mai Tai' at the Bacardi World Mai Tai Competition in 2011 in Kona, HI – noting her secret ingredient to be The Perfect Puree of Napa Valley's Caramelized Pineapple Concentrate.
Recipes